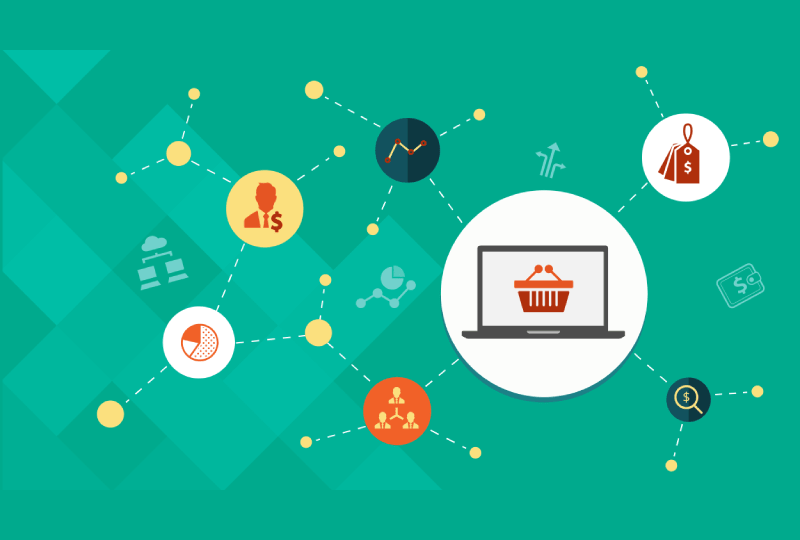 How Business Intelligence Can Help Your eCommerce Business?
What is Business Intelligence and Why Do I Need It?
Benefits of business intelligence for your B2B eCommerce business.
What is Business Intelligence?

Business Intelligence (BI) software is software that collects, analyzes, and presents business information and big data. The software, if implemented correctly, saves you time and energy while giving you important information about your business and customers. BI software is able to take all of your raw data, make sense of it, and show you the information that counts. Business intelligence helps companies make more informed and better decisions about marketing, sales, and numerous other areas of their business.
Sales and Profitability Analysis
BI solutions enable you to analyze product sales to uncover trends and product demands, and accordingly formulate sales strategy. It impacts responsibilities of every stakeholder that include executives, managers and external suppliers for making sense of the data obtained by identifying trends and business opportunity areas. Also, BI readies your eCommerce store to efficiently serve customers during festive season.
Store Operational Analysis
BI tools provide precise information on store operations for maximizing profitability and fact-based decision-making. Consolidating data using business intelligence enable you to monitor your store performance across different geographical boundaries, and on that basis accelerate marketing and make promotional investments.
Customer Analysis
Understanding customer behavior is pivotal to sustenance in the ever-intensifying competition landscape. BI tools provide in-depth customer analysis to identify customers' purchasing habits, plan marketing campaigns, win customers' loyalty, retain customers and perform customer segmentation.
Merchandise Management
With the help of BI tools, you can showcase right product at the right time. Depending upon the insights obtained from customer analysis, you can evaluate products' performance, and accordingly accelerate promotion in fruitful areas (individual items, categories, geography, etc.)
Inventory Management
Marketing dynamics fluctuate demands making it difficult for you to maintain optimum inventory levels. BI tools help you to avoid product stock outs due to unexpected circumstances. By using BI tools, you can rapidly determine where and which products are in-demand. It also helps formulating strategies for on-product discounts and promotions.
BI tools can also optimize inventory levels, replenish stocks and track inventory movement.
Most importantly, BI tools empower you to monitor sales lost due to insufficient inventory level of the products on the online store and ready inventory for future demands.
Marketing Analysis
BI tools enable you to understand behavior and best target your marketing efforts. By analyzing customers' points of interaction with your online store, you can promote special offers and recommendations to the target audience.
You can access reports, scorecards and analyze data to determine strategic opportunities for promotions and new sales channels.
BI tools also help you to gauge the outcomes of deployed strategies across the internet. This helps you strengthen consumer interactions, manage promotions, enable customer intimacy and maximize ROI.
BI tools for eCommerce
Dashboards
The concept of Dashboards is not new. They have existed for decades, though not in the fancy form that you find them in now with drill down feature for further analysis. Dashboards put all the diversified information together in one place. This allows Managers to have a global view of the state of their business. They can drill down on the areas of their interest or where they see the need for taking corrective action. Dashboards save substantial time by helping a manager know the state of the business at a glance.
Performance Scoreboards
Performance scoreboards provide measurement to the extent the objectives of the business were achieved. They highlight the areas requiring immediate action and monitoring. Further analysis of the scoreboards allows managers to identify the customer group, product line or the individual products and customers where the actual performance is lagging behind expectation.
Google Analytics
The eCommerce tracking module of Google Analytics is a very powerful tool in the hand of eCommerce Managers to analyze the direction in which their business is heading. The data available to users includes total revenue, average order value, conversion rate, the number of unique purchases, the number of transactions, quantity sold and sales by product.
Why Teplar Solutions for eCommerce BI?
Teplar Solutions uses Custom BI Development, Microsoft Power BI and Tableau as its Business Intelligence tools. Which provides most of the required reports and a lot more. This enables Teplar to help you in successfully navigating your business toward success.