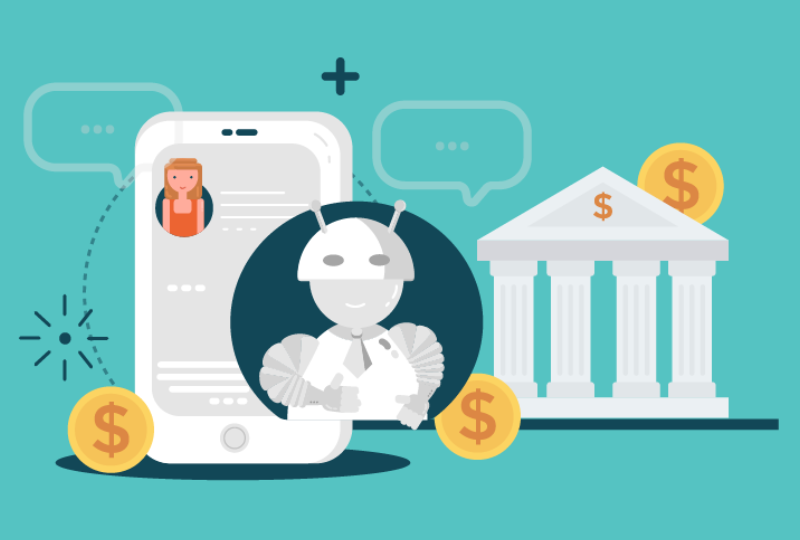 7 Benefits of Chatbots in Banking and Finance Sectors
Poor service is one of the main reasons why banks lose customers. Long response times, a need to repeat the same information every time you call support, and lack of free operators do your bank no credit.
Due to the personal nature and general importance of finances, customers usually have a sense of urgency when trying to get in touch with a representative from their bank or financial institution.
One of the most effective technological solutions for banks and finance sectors nowadays is chatbots. These systems can not only improve customer support but can also help employees, automate a lot of routine tasks, and even attract new customers.
Why we use chatbots in Banking and Finance Industry
Let's find out how chatbots do this and what they're capable of and look at real-life examples which prove that chatbots in banking really work.
1) 24 x 7 Support
A 24 x 7 instant chat feature is expected by the increasingly digital 'always-on' consumer. This means that banks with chatbots built into their websites have a competitive advantage, and are likelier to attract and retain customers.
2) Ease of Use for Customer
Financial services chatbots can help banks minimize their errors and optimize their user experience. The best chatbots for banking websites are able to guide customers through the process of transacting online, utilizing a mix of well-designed scripts, artificial intelligence and natural language processing.
3) Customer Feedback and Measurement
Chatbots are excellent tools for data capturing and analytics. Since they work with specific keywords, they can effectively capture a customer's current needs and pain points. With the data captured by chatbots, banks & financial institutions can also find out how satisfied a customer is with their service, how well specific product promotions work or how engaged users are with their services.
Automating tasks using chatbots can also help institutions gather some valuable information which can be analyzed to provide important insights and action items to improve services, product offerings and customer satisfaction.
4) Personalized Marketing Experience
Even though banks provide a wide range of services to their customers, not every service can have the correct taker for it. Thus, in order to provide the customers with personalized services, banks can accomplish this particular goal by deploying chatbots. As a matter of fact, the delivery of personalized services can improve the overall rates of conversion by 25%.
5) Millennial's are Comfortable with them
While this may not seem a lot, millennial are clients with vast buying powers – and their preferences cannot be ignored. Chatbots operate right from within their favorite messaging apps and thus open up a large consumer market to financial firms.
6) Progressive Personal Banking
The biggest problem that most of the customers face from the bank's end is the delay in services and lack of personalization. Introducing chatbots in the banking industry improves overall customer satisfaction and engagement. By reducing the waiting time and other related paperwork, the bank can help customers get faster and personalized services along with saving a lot of precious time for both parties.
Chatbots can also help with providing account expenditure, account statement, account information related to the latest bank schemes, KYC, and resolve queries quickly. The best thing is that with the help of chatbots, the bank can solve queries in a very short time span without any human intervention.
7) Lesser Cost Support
Chatbots solve customer problems in 100% automated way. Less Call Center agents are needed, allowing consultants to focus on after-sales, increasing margins on banking products. What's more, Chatbots are less expensive than stand-alone mobile applications, and their cost is often spread across multiple platforms (website, Facebook, Twitter and other social media channels).
According to Juniper Research forecasts, Chatbots will allow banks to save billions of dollars in the next decade. According to the company's report, by 2022 Chatbots' use will be responsible for 8 billion dollars annual cost savings.
Why Choose Teplar as Chatbot Developer?
Finally, Our Chatbots can be implemented across different industry verticals as they can take care of multiple services like complaints, customer care and feedback, booking, searching, handling payment procedure etc.
You have come across a glimpse of chatbots in banking and financial sector. There is a lot more to come. However, if you are serious about staying in competition and meet customer expectations, make sure to invest in latest technologies.