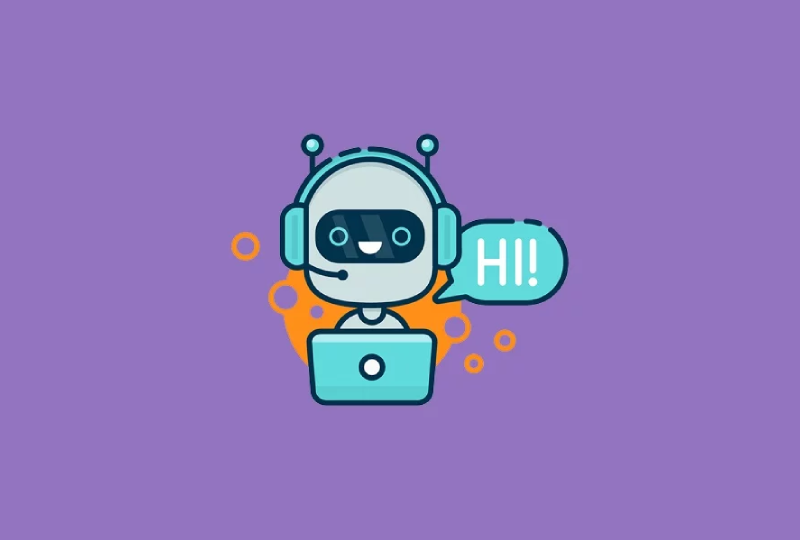 10 Powerful Ways Chatbots Can Improve Your Business Customer Service
Chatbots are changing the way brands interact with their customers, and when the chatbot is of a high quality, those changes are usually positive.
In fact, a survey by Oracle found that 80 percent of brands plan to use chatbots by 2020, while a Ubisent study found that 35 percent of consumers want to see more companies using chatbots, which is interesting considering the practice is still quite new.
What is a chatbot?
A chatbot is a software that can converse with humans via a live chat interface. That can happen on a brand's website or app, or through platforms like Slack, Skype, Facebook Messenger, WhatsApp, and even Alexa.
Simple chatbots scan the keywords in a customer's inquiry to deliver pre-packaged answers, while more sophisticated chatbots powered by artificial intelligence (AI) and machine learning (ML) can use natural language processing to create responses and conversations that are more complex.
AI chatbots are more flexible when the human speaking to them doesn't give the exact message they're programmed to receive. Instead, they actively learn from the conversations they have to help customers reach their goals.
AI-powered chatbots are typically better integrated with the CMS and CRM platforms that underpin a brand's online presence, allowing them to tap into customer information and provide personalized experiences.
Here's how an AI-powered chatbot development might differ from a chatbot programmed to give specific answers to specific questions:
User: Hey, what time is your store open in New York today?
Simple chatbot: Hi! We're open until 9 pm today.
AI Chatbot: Hi Alex! We're open until 9 pm today. It's snowing in New York, so dress warm!
How a chatbot enhances customer experiences
While the benefits for the company that uses chatbots include reducing costs (your live chat support staff bill will be much lower), the real winner will be your customers. Here's how a chatbot enhances customer experiences.
Here are the ten ways a chatbot can improve your customer experience.
1. Seamless live chat
Customers can engage with a chatbot in much the same way they would in an online conversation with live customer support employees, so the learning curve for customers to engage with chatbots is practically nonexistent. Since many chatbots use natural language processing methods, they can analyze the customer's question and deliver a response that meets the customer's needs.
Most chatbots can also be seamlessly integrated into the company's website or smartphone apps, which saves the customer the time and trouble of searching the company's online resources for the answers they need. Or, customers can talk to your brand at any time without leaving their favorite messaging apps like Facebook Messenger or WhatsApp.
In Facebook's recent F8 2018 keynote, for example, it was revealed that over 8 million messages have been exchanges between Facebook users and businesses that are using Facebook's chatbot live chat since it's inception but less than 1% of companies that have a Facebook profile are actually using the technology.
2. 24/7 customer service
Your live chat support staff need sleep — but your chatbot doesn't.
Customers' needs often arise outside of business hours, so they need a way seek out answers to vital questions at times when customers service staff members are unavailable.
Chatbots offer customers the opportunity to get answers to their questions at any time, so they don't have to wait for a response from a voicemail or email message. The best chatbots can also offer the customer the feeling of conversing with a live operator at any time.
3. Endless queries, zero chance of sass
Although some chatbots are designed to simulate human intelligence, other systems have been developed around the idea of letting computers do the things that they were built to do: handle dull or repetitive tasks, such as calculations or database searches.
David Cancel, CEO of chatbot development firm Drift, wrote that the goal of a chatbot should not be to create a perfect simulation of a human conversation but to satisfy the customer's needs.
"A brand shouldn't try to build a human-like chatbot," Cancel told us, "a great chatbot should be able to take actions that maximize their chances of success toward achieving particular goals."
And if a customer's goal happens to involve asking to have their password rest for the fourth time in a week — your chatbot won't mind!
4. A smoother journey
To ease the purchasing process for the customer, your chatbot can pop up on any product page to offer additional information, video content or even a discount code.
Chatbots can also help customers with the process of gathering information, such as the item they wish to purchase, the method they want to use for purchasing the item, and how they want it shipped. Who knows, maybe even those dreaded shopping cart abandonment rates will finally drop, too.
5. Less stress
A recent survey by chatbot developer Helpshift found that 94 percent of the 2,000+ respondents "dread contacting customer support." The current methods of handling customer support calls, from overseas operators to automated telephone menus, have done little to ease a customer's dread at reaching out to a vendor's customer service branch.
The survey also found that customers would welcome the use of chatbots to satisfy specific needs. At least 70 percent of the respondents answered that they would use chatbots if they could accomplish much-needed tasks, such as resolving issues with the need to contact customer support, reduce the time needed to resolve issues, reduce the time to get a customer service representative on the phone, and streamline the entire customer service process.
6. Goodbye, IVR
One of the biggest complaints that customers have about the customer service process is the use of interactive voice response (IVR) systems during phone calls to customer support.
These systems ask the customer questions and route the customer's call based on their voice responses. IVR systems are highly structured, routing the customer through each response until it reaches the pre-programmed destination.
A chatbot, on the other hand, can be used in a similar way, but with less IVR-induced frustration. The customer feels like their voice is being heard and understood, while the chatbot can try to lead them towards either an answer based on previous situations or to a human representative.
7. Personify your brand
The flexibility of chatbots allows them the chance to engage with customers on many different levels. They can act as the customer's primary resource for technical support, account management, or sales information.
Chatbots can also be programmed with different types of conversational styles, from precise and technical to friendly and helpful to snarky and humorous. The various types of "personalities" available with chatbots will keep customers coming back and re-engaging with the brand.
8. Reinvent your forms
If you want your customer's information, you give them a form to fill in. But they're boring, and often far too long. If the customer decides to fill it in anyway, they'll do so reluctantly.
A chatbot, on the other hand, spruces the situation up.
"Chatbots can get the same information that any form can — but without the friction and cognitive load that you get when you're staring down a form with 11 required fields, which, if you can believe it, is the industry average", David Cancel of Drift told us.
9. Chatbots help cut down on operational costs
Every year, around 265 billion customer support requests are made and it costs businesses whopping $1.3 trillion to service them. These costs can significantly be reduced with the help of AI Chatbots. As per reports of Chatbots Magazine, implementing virtual agents or Chatbots can help businesses to save up to 30%.
Chatbots won't completely replace human agent or employees. Chatbots give support and solve repetitive queries of the customers and as a result, customer service agents will be able to handle more complex queries and provide better service to the customers. 
Therefore, Chatbots ensure lucrative productivity from the investment in agent or employees. Hiring agents for 24*7*365 and adding resources to give support to the customers round the clock can be too costly for the company.
Companies like Auto desk, receive calls for general inquiries that can be handled quickly by Chatbots. Virtual agents or Chatbots will be the first point of contact and for more complex queries it can be escalated to human agents, hence Chatbot helps in improving customer service and reduces cost.
According to industry research, Chatbots are predicted to deal with 90% of all customer inquiries within 5 years. This means that by 2022, it's expected that they will cut business costs by $8 billion.
10. Chatbots Reduce Human Error
One of the reasons we use chatbots is because we want to have time for other things while we allow something else to do our work for us.
Can we trust chatbots with this task? Of course, we can. Sometimes we may forget, but chatbots don't forget.
Chatbots are designed to have access to enormous information that can help them answer your customer's questions accurately.
Why Teplar for Your Chatbot Development?
Businesses have saved a lot of money while increasing more sales and conversion rate with the help of Chatbot.  
Teplar Solutions uses the advancements of AI, NLP and machine learning, Chatbots are becoming more and more intelligent, and the future of Chatbots seems bright.